Sanitization Services in Savannah
Sanitization Services in Savannah | 911 Restoration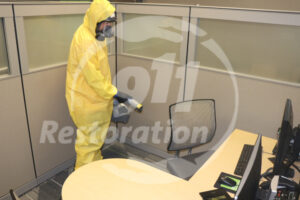 The need for sanitization services in Savannah have increased a lot over the past few years. While it has always been very important to stay safe and healthy, it wasn't until COVID-19 that it became clear. 911 Restoration is proud of its sanitization services, products, and processes. We have been offering high-end services in the area for many years. Because of our regard for the service and how we work towards customer satisfaction, we are now among the leaders in the industry. 
As a full service disaster restoration company, our sanitization services in Savannah have always been best in class. We offer complete clean up services for every type of environment. Whether you simply need to maintain a clean environment or are recovering from a disaster. We are here to help you out, no matter what. We have a number of IICRC-certified experts ready to help you create a clean and sanitary environment. 
911 Restoration of Savannah uses a number of green products and processes to help you out. As the risk of germs increases, 911 Restoration is also stepping up its game. We can help you create a clean environment after water damage restoration, fire damage restoration, mold removal, any other type of disaster, or if you simply need a clean room for medical reasons.
Our experts use a combination of FDA and EPA-approved products for the service. This is true for commercial and residential sanitization services alike. 911 Restoration experts are at your property within 45 minutes, ready to start working. 
Give us a call today and see how we can help!
Our Sanitization Services in Savannah
911 Restoration has a wide range of products and processes suitable for different areas. We plan our sanitization services while keeping in mind your requirements. We understand that after any type of disaster, you have a lot going through your mind. To make sure we get rid of the risk of germs for you and your family, we offer thorough services. Every time you call us, you can expect high-quality work that offers quick and low-cost results. We work as quickly as possible to reduce disturbance but as slow as we have to for better results.
Our service begins from the moment you call us. We arrive on your property within 45 minutes and offer free visual inspections to property owners. Furthermore, our experts arrive on your property with all the necessary equipment from the very beginning. Our goal is to give you a low-cost and high-quality sanitization service in Savannah. We offer COVID cleaning services as well as mold removal, sewage backup cleanup, and more.
Benefits of Our Sanitization Service in Savannah
Rest assured; with 911 Restoration, you get high-grade EPA and OSHA registered products for cleaning. This means that our service comes with a guarantee of a passing mold inspection test. Therefore, we are also able to clean and remove bad smells from your property without impacting the Earth. We offer a wide range of benefits from our services, each designed to improve your experience with us. These include:
Non-abrasive cleaning products: We make sure your surfaces will shine like new and won't be damaged at all. 

Safe products: Our products do not catch fire as easily and are therefore not harmful. 

Healthy products: We dilute our products before use to make sure they do not harm your health during or after the service.

Environmentally friendly products: Our products are free of chlorine, phosphates, and other chemicals, hence making them safe for use.  

No bleaching properties: Our technique ensures that our products do not remove the color of your furniture and equipment. 

Detailed service. We use fogging processes to make sure that every corner of your property is covered. Our products are very thorough, hence reducing the need for rinsing.

Odor Removal: Our products smell very pleasant, hence making your property much more appealing.
Our sanitization service in Savannah helps you create a protective layer around every surface. This means that it can kill germs and mold spores quickly. This means that the product is able to create a safer environment for you easily. This property is what makes our COVID-19 cleaning service to be an industry-leading service.
Our Disinfection Service Goal
911 Restoration of Savannah uses a wide range of products and processes to serve you better. This is why the initial inspection of your property is key to making sure our plan is up to mark with your requirements. We aim to clean every surface and give you the cleanest possible environment you need. This often requires a lot of planning before the process begins. The more corners your property has and the larger it is, the more we will have to dive into details. 
Furthermore, this is where it gets very important to have IICRC certification for each of our experts. The training and certificate allow the experts to make smart decisions based on your property. From choosing the right product to making sure the process is perfect; we cater to it all. We aim to offer our cleaning services as individual services to deal with any type of disaster. 
Let us help you get clean and fresh surfaces after:
Water damage restoration in Savannah

Mold removal

Sewage backup cleanup, and more. 
This is why we are always ready to go the extra mile when it comes to cleanup and sanitization services in Savannah.
Our Sanitization Services Process
Our sanitization services in Savannah start off with a close inspection. This gives us the ability to break the equipment and the process down and make smart decisions. We understand the products that we need and hence, the process that we will use. Then, if there are any special conditions that we need to look out for, our experts address them as well. 
For the next step, we then start with a basic clean-up service. We remove any large trash on your property and put everything in its place. This way, you get to experience the Fresh Start that we promise with our service. Then, we give you an update to check the property, if you want to. The next step involves washing everything, sweeping, scraping, and cleaning. This is where the service truly begins. 
Therefore, we apply our products and processes to make sure everything is clean. The focus here is to kill off all germs and mold spores, washing everything with our product. Hence, 911 Restoration uses high-quality processes and products which don't always need a rinse. The chemicals we use depend entirely on the surfaces we are cleaning and how detailed you want the surface to be. Furthermore, we have a number of scent options with our products to help you remove any bad odor left behind.
The entire process takes less than an hour to complete (depending on your property). Call us today to learn more about our process and how we can help you out!