Fire Damage Restoration in Savannah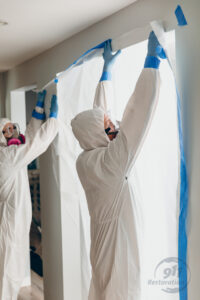 Fire damage restoration in Savannah is one of the most common services in the area. This is because of the overall dry conditions that the region has to experience during the winters. No matter the extent of the fire, it is important that you recover quickly and resume your life. For businesses, there is the risk of loss of profits and clients alike as well. 911 Restoration of Savannah offers its fire damage restoration services to help you recover as quickly as possible. 
Our fire and smoke damage restoration service include a number of supportive services as well. This includes smoke damage restoration, soot removal, and even reconstruction. This is because, after even the smallest fires, you may have to deal with structural damage. Smoke and soot can go deep into the property and lead to a number of issues. This also includes the health impacts that fire, smoke, and soot can have. These impacts are short- and long-term alike.
911 Restoration has a number of expert fire damage restoration individuals. These employees are well-trained and IICRC certified. Therefore, we are able to provide cost-effective and reliable services at all times. No matter what type of restoration services you need. Whether you need residential restoration or commercial fire damage restoration in Savannah,  we have got you covered.  
Call us today to learn more about our services. Let us help you see how we can give you the Fresh Start you are looking for after a fire!
Our Reliable Fire Damage Restoration Service
When it comes to fire damage restoration in Savannah, 911 Restoration is proud to be one of the leading companies. This is not only because of the extensive service we offer but also because of our focus on quality. Furthermore, we are one of the fastest companies in the area. After any type of fire damage, a quick response is a key to making sure everyone is safe in the building. We also make sure everyone around the building is safe. By responding quickly, we are also able to save your property from long-term damage. 
911 Restoration of Savannah offers a 45-minute response time for any type of disaster – and we come prepared. Our experts are always ready with all the right equipment to start the restoration process as quickly as possible. In many cases, there is a lot of water on a property after fire damage. You need to make sure you start the fire damage restoration process quickly. If not, there is a very good chance that it will lead to water damage and mold. Consequently, the cost and time for recovery can increase quite a lot.
We offer a free visual inspection for property owners as well, which allows us to understand your requirements better. Once the service begins, we also walk you through the insurance process. If you would like, we can take over the insurance process as well. Our connections in the industry mean that we are able to help you get better settlements. Furthermore, we also offer direct billing options so that you do not have to worry about a thing!
The Leading Fire Damage Restoration Service in Savannah
One of the biggest factors that have allowed us to become the leading restoration company in Savannah includes our employees. They are all well trained and IICRC certified. The experience and training sessions combine to help us work faster than ever. They also help us be more efficient. We have won several awards for being thorough and offering very specific solutions. These awards and customer testimonials are proof of our service quality. Furthermore, customer feedback also allows us to improve our services. 
Since emergencies and disasters wait for no one, neither do we. Our expert fire damage restoration crew in Savannah is available 24/7, 365 days a year. As a result, we have experts working even on holidays. All our teams have the necessary skills and knowledge to give you the Fresh Start you are looking for. No matter how much your property is damaged, our experts are here to help.
Our fire damage restoration service in Savannah is not just for properties that are facing a specific type of disaster. We are a full-service company dedicated to helping everyone out of a bad situation. This is why we have experts trained in a number of areas of expertise. This wide range of service areas allows us to offer any type of service at any time, and at any scale. This includes residential as well as commercial restoration services in Savannah. 
Are you ready for your Fresh Start? Are you looking for a quick, convenient, and cost-effective solution? Call us right away for a free quote or to get started immediately! 
Our Process For Fire Damage Restoration in Savannah
The first thing that you need to do after a fire is call 911, followed by your restoration crew. You should consider calling 911 Restoration of Savannah for fire damage restoration. With us, you can get IICRC-certified experts at your place much quicker and expect a much more efficient, reliable, and expert service. We try to collect as much information as possible during the phone call. This helps us make sure that we have everything we need for the service.
When we arrive at your property, we start with a free inspection for property owners. During this phase, we also conduct a detailed assessment before starting the cleanup process. We collect more information about the damage during this phase. This phase also involves bringing in more people and equipment to your property for better services. And then begins the restoration process. 
And then we start removing the burnt items from your property. During this phase, we also get in touch with your insurance provider to speed up the process. Furthermore, we also set up direct billing with your permission. This way, all you have to do is sit back and rest after the disaster. We can handle the rest! During the whole process, we keep you updated about the service. We work closely with you to ensure that we are working just the way you want us to! 
If you would like to learn more about the process, we are just a call away! You can also book an appointment over a call or through our quick form. Let us start working towards your Fresh Start today!