Water Damage Restoration in Savannah
911 Restoration of Savannah
Are you dealing with water damage in Savannah? This region has experienced its fair share of powerful storms and devastating floods. Water damage can manifest in various forms, whether it's triggered by a natural calamity, insufficient upkeep, or an unforeseen mishap. Regardless of the underlying cause, when confronted with any disaster, remember to reach out to 911 Restoration of Savannah—the premier water cleanup company.
At 911 Restoration of Savannah, our team of highly skilled professionals in water damage restoration possesses the expertise, training, and cutting-edge equipment necessary to deliver comprehensive property restoration services. Our primary objective is to provide residents with a sense of calm and assurance when confronted with damage and the accompanying stress.
Our Institute of Inspection, Cleaning and Restoration Certification (IICRC) technicians are readily available around the clock, 365 days a year, ensuring prompt restoration assistance. Within a swift timeframe of 45 minutes from your initial call, our proficient water damage restoration technicians will arrive at your property. They will conduct a thorough assessment of the damage sustained, enabling them to identify the source of water intrusion and determine the appropriate cleanup and restoration services required.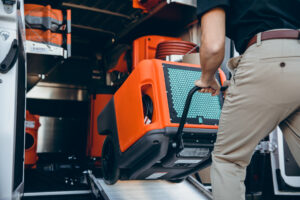 Residential and Commercial Property Owners Depend On Us
In the unfortunate event that your residential or commercial property falls victim to a disaster, don't hesitate to contact the skilled professionals at 911 Restoration of Savannah by dialing (912) 302-1988. Our highly trained water damage restoration technicians possess the expertise and cutting-edge equipment necessary to effectively restore even the most severe damage. We fully comprehend the immense stress associated with dealing with water damage. Give us a call and allow us to provide your property with a fresh start.
When faced with water damage, the task of cleaning up can pose significant challenges for homeowners. However, the dedicated water damage restoration cleanup team at 911 Restoration is prepared to tackle this task and provide you with a fresh start. It is not uncommon for property owners to believe they can handle the damage on their own. Nevertheless, when it comes to water damage, there may be hidden complexities. By contacting the professionals at 911 Restoration, you not only ensure your safety but also regain the pre-damage condition of your property. Give us a call at (912) 302-1988 to discover how we can assist you.
We provide water damage restoration services such as:
Burst pipe cleanup and repair
Water removal
Frozen pipe repair
Flood cleanup and repairs to damage
Carpet water damage repair
Ceiling leak repair
Crawl space cleanup
Water extraction
And more!
Call the pros at 911 Restoration when dealing with water damage. Our water cleanup crew can provide the services you are looking for, no matter the time of day. We are available during early morning hours, late evenings, and holiday weekends to ensure your property receives water damage restoration quickly after the problem arises.
Sanitization Services & Disinfection Solutions
In light of the significant global impact of the coronavirus, it has become evident, more than ever, that coming together is crucial. The repercussions of this pandemic have affected businesses and individuals alike. Fortunately, each of us can contribute to the fight against this issue. One of the most vital steps we can all take is to prioritize personal hygiene. Following water damage restoration, it becomes imperative to thoroughly clean and sanitize the affected area.
For property owners, it is essential to go the extra mile and ensure the safety of anyone who enters the building. That's why 911 Restoration of Savannah is fully equipped to provide sanitization services and a range of disinfection solutions for both residential and commercial properties. Our team of IICRC-certified technicians undergoes comprehensive training to adhere to the latest protocols set by the CDC and EPA, ensuring full compliance while delivering top-notch sanitization services. As a community, we must stand together. Rest assured, with us, your peace of mind is in capable hands.
Mold Removal in Savannah, GA
When faced with water damage, time is often a critical factor. The longer water remains stagnant, the higher the likelihood of worsening damage. A prime example is the potential for the water to become a breeding ground for mold spores, leading to a fungal infestation. It is crucial to handle these infestations with utmost caution and care, as they can pose harmful side effects.
At 911 Restoration of Savannah, mold removal services is one of the many cleanup services we offer. When searching for a company to get rid of mold in your house or business, we are the company to call. When Savannah residents choose our mold removal crew, they receive benefits like:
Free visual mold inspection for property owners only
Residential and commercial mold removal
Structural drying and dehumidifying to ensure complete mold remediation
Third-party laboratory mold testing
Professional mold inspection
Contact us at (912) 302-1988 to get the services you deserve from a restoration company you can trust.
Sherry M.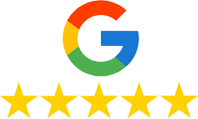 "I would give them 6 stars if I could. I had to deal with a flood in my business, an absolute nightmare for every business owner. [911 Restoration] came right away, and they are so professional and efficient. Even after everything was done they followed up and made sure everything was back to normal. A+ customer service. Thank you!"
Fire Damage Restoration in Savannah
Property damage can occur through various means, but fires can be particularly devastating, both emotionally and in terms of property destruction. Our dedicated fire cleanup crew at 911 Restoration recognizes the immense strain that property owners may experience during such times and is committed to doing everything within their power to alleviate the associated stress.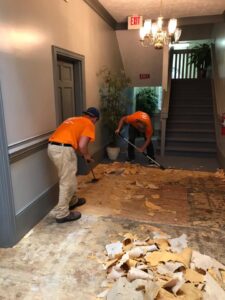 Fire restoration clean-up services include:
Free fire damage assessment for property owners only
Direct insurance billing
Cleaning of dishes, surfaces, and furniture
Smoke removal
Odor removal
Reconstruction and renovation
Smoke damage restoration
Complete fire damage restoration
Packaging and storing of undamaged items
Soot removal
Free insurance consultation
And more
The safety of you and those residing or working on the property is our top priority. You can trust 911 Restoration of Savannah to deliver comprehensive fire restoration services and take all necessary measures to give you a fresh start. We will even address any water damage caused by the efforts of the fire department.
Sewage Backup Cleanup and Disposal
A sewage backup not only emits a foul odor but can also result in extensive property damage. Moreover, sewage water poses a significant health risk when proper water cleanup measures are not promptly implemented. To eliminate the unpleasant smell and mitigate potential health hazards, it is crucial to contact the professionals at sewage removal companies when faced with a backup situation.
Sewage water is known to harbor hazardous pathogens and bacteria, which is why it is crucial to entrust sewage cleanup to experienced water damage restoration technicians. At 911 Restoration, our team possesses the necessary equipment, training, and expertise to restore your property and provide you with peace of mind. Give us a call at (912) 302-1988.
Disaster Restoration in Savannah
Residents of the Savannah area are well acquainted with the power and unpredictability of Mother Nature. Fires, floods, storms, and snow are just a few examples of the natural disasters that this region may encounter. When your property requires disaster restoration services, you can rely on 911 Restoration to provide the support you need.
Powerful storms accompanied by high winds have the potential to cause significant property damage. One common consequence is roof damage, which can result in internal flooding. In such situations, the water cleanup crew is readily available to provide emergency restoration services when your property is struck by a disaster.
Despite the disaster, our experts have what it takes to provide complete property restoration. From fire damage to Water damage restoration get your property better than new by calling 911 Restoration of Savannah today!
Commercial Restoration in Savannah
As a business owner, you understand the significance of maintaining the appearance of your property. Often, first impressions play a crucial role in determining whether a customer chooses to engage with your business. Therefore, it is essential to ensure that your commercial property is consistently in good condition. Damage to the exterior of the property can discourage potential customers from doing business with you. Rather than risking the loss of business opportunities, reach out to our experts for professional property cleanup.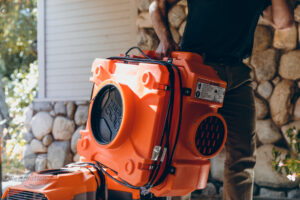 The more time dedicated to restoration cleanup services, the less time available for productivity and generating revenue. Regain your focus on business operations with the assistance of 911 Restoration. Call us today at (912) 302-1988! Rest assured, our team is IICRC certified.
Serving the communities of  Savannah, Guyton, Hilton Head Island, Richmond Hill, Rincon and the Surrounding Areas