Disaster Restoration in Savannah
Storm Damage in Savannah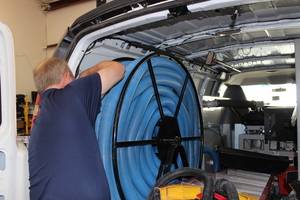 Disaster and storm damage in Savannah resulted in losses of $35 million in 2019. This includes losses from shutdowns. This figure is only for damages from Hurricane Dorian. It does not show annual repair costs. That's why it's smart to have a well-trusted disaster restoration team on hand.
Savannah residents face more property damage from flooding, tornadoes, etc. Have you had to get restoration services for such damage? You may have avoided these problems. Still, you need to be careful.
You know you live in an area with moderate disaster risk. So, you need a crisis plan. Have disaster restoration experts on speed dial. Our certified technicians have experience handling such damages. This makes them efficient at their job. They will first review the damage. Then, they will do some emergency work and create a plan. Our team has the necessary knowledge and skills. They will work to ensure you are satisfied. 
What Our Storm Damage Restoration Includes
Natural disasters cause a lot of damage. So, you need a strategy for repairs. We promise complete restoration services. This makes us the best in the market.
That's right! We know the restoration process may include water, fire, smoke damage, etc. So, our restoration services will cover several damages. We provide services for storm damage in Savannah:
Water Damage Restoration
Water damage restoration in Savannah is hard to avoid. Georgia gets floods, tropical storms, and winter storms. They affect the region and cause condensation, basement flooding, etc. You need a trusty restoration provider during emergencies.
Water damage is dangerous. A delay in restoration amplifies the damage and creates new problems. Water damage that's left causes mold damage and sewage backup. They spread diseases, putting everyone nearby at risk.
We understand efficiency is vital when dealing with water damage. Our specialists will remove water using advanced equipment. They will also complete these repairs to prevent more water damage:
Roof repairs

Gutter maintenance

Wall and ceiling repairs

Leaking pipe repair
These are only some several services we provide. We also do:
Fire Damage Restoration
Wildfires cause fire damage in Savannah. They spread quick and bring smoke and soot. You can lose memorable belongings, which can stress you out.
The 911 Restoration of Savannah team understands your position. So, we do everything to help. Our first concern is removing all undamaged belongings to a safe space. Next, we salvage what we can while our teams work on removing soot and smoke.
These elements are hazardous for living things. They can cause lung damage or poisoning. Fire damage leads to water damage since water is used to take out fire. Our teams will also provide required water damage restoration. After they are done, your property will be damage-free and repaired.
It will be an emotional process. So, we will do everything to make it smooth.
Other Services We Cover
Water and fire restorations are the primary services. We cover other damages too. Our teams are mold removal, cleaning, and sewage cleanup experts. They will first analyze the entire situation. Then, they will provide a repair and restoration plan for your property.
Your house will look like its brand new after cleanup!
Round the Clock Disaster Restoration in Savannah
Storm damage in Savannah is common. It causes extensive property damage. There's no avoiding the natural disasters in the area. As a Savannah resident, you can face water damage many times a year. If this is true for you, you need a reliable solution.
The 911 Restoration of Savannah understands your concern, and we're here to help. Our disaster restoration services are the best in the region. We will help restore your house. 
Natural disasters can happen at once. You need a team that can give immediate support. We have been working in the industry for a long time. So, we understand how it works. Such conditions require specialized planning! 
911 Restoration of Savannah has 24/7 emergency restoration services. So, how do we manage it? We ensure our teams have the gear for emergency relief. Our shift system ensures someone is always available to help you.
Just call , and you'll get help within 45 minutes.
Get a Fresh Start with Disaster Restoration in Savannah
Natural disasters cause wreckage, making them inconvenient. Floods cause residents to lose money on water damage restoration in Savannah. They also create large hurdles. We understand the situation can be painful.
So, we aim to give you a Fresh Start to leave the troubles behind. Everyone deserves a chance at happiness. We want to help you achieve it. With 911 Restoration of Savannah, you receive the best services.
Our team members are restoration experts who know the industry well. We are a local business connected to Savannah. Our roots and philosophy dictate our values. They help us maintain high-quality standards for our clients. 
Our strength lies in protecting the community. You can trust our team will leave your home in the best possible condition.
Certified Experts
Property restoration requires knowledge and skill. We only let our IICRC-certified and trained experts to perform the job. They know more about precautions and regulations. They also have experience, which leads them to solutions for unique issues. 
Contact Us
Are you ready to get the best disaster restoration for storm damage in Savannah? 911 Restoration of Savannah provides 24/7 emergency services. Call (912) 302-1988, and our teams will reach you within 45 minutes. They will then do an initial inspection and damage control.